CrosswordPlayer Project
Crossword puzzle player and schema.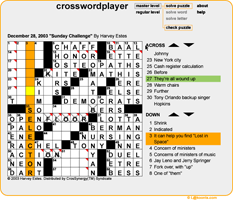 CrosswordPlayer is an interactive web crossword puzzle player in SVG. Associated work includes developing crossword XML Schema and file format PUZ to XML translator. Play a crossword!
SVG (Scalable Vector Graphics), an openly specified W3C (World Wide Web Consortium) technology, is a XML-based vector graphics markup language for describing 2-D graphics and graphical applications. CrosswordPlayer has been linked to from SVGGames and SVGX.ORG.
CrosswordPlayer is able to play puzzles in an open crossword format, as well as puzzles in .puz format. Unable to find an open crossword puzzle format, I started developing my own. I'd like it to be easier for people to exchange and play crossword puzzles. I hope to replace this early attempt with a more workable crossword format.
Comments welcome. - L.